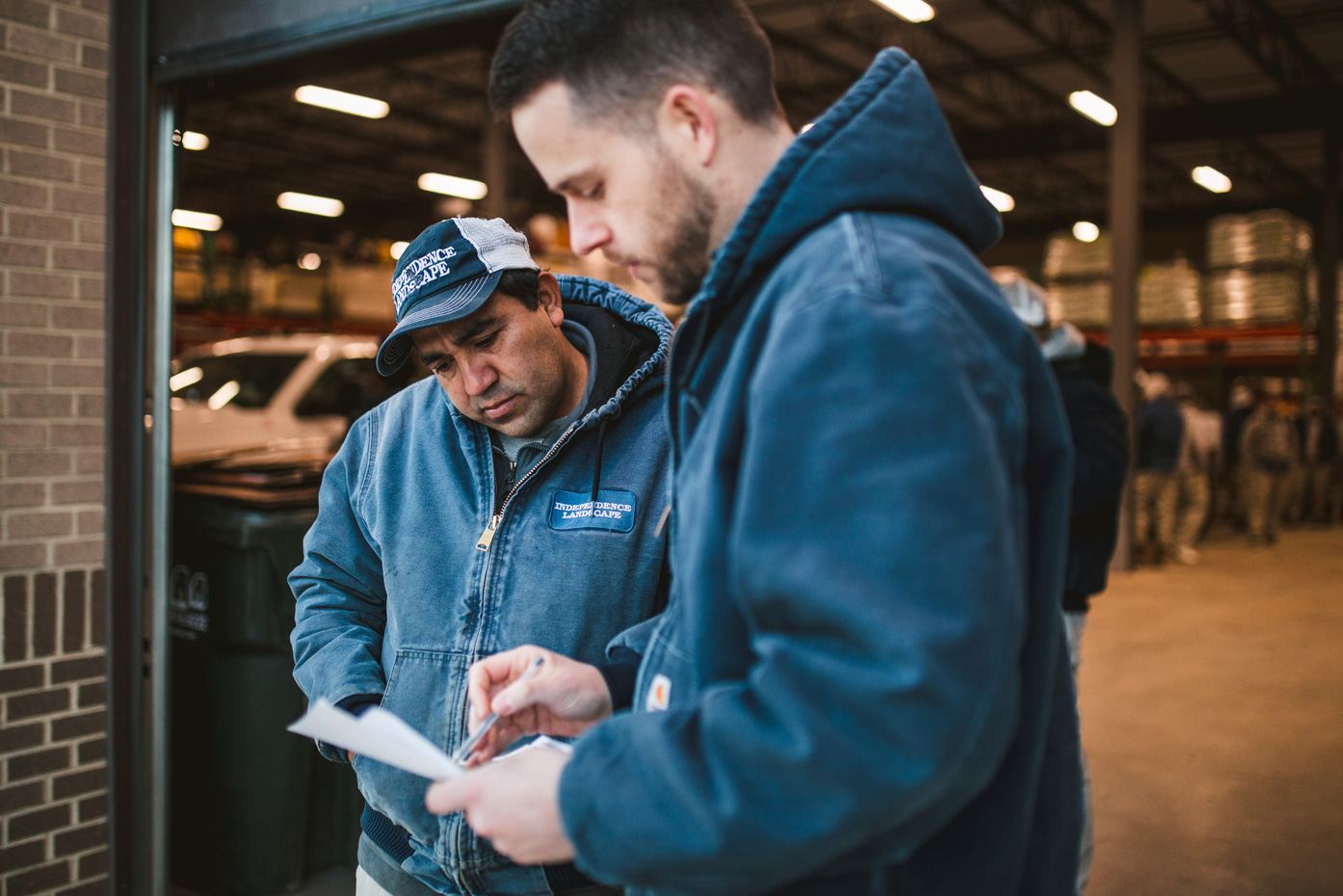 WHY CLIENTS STAY WITH US
Building loyal relationships is the backbone of our business. Season after season, our clients know they can depend on us to get the job done right. See for yourself why people choose Independence and never look back.
A
"Independence is the gold standard in landscaping and lawn care for Northern Virginia. Every member of the team was communicative throughout the process from the supervisor to the skilled workers."
– Alex M., Reston
---
J
"We've used them for two houses and both times, they've turned our lawn around to the envy of the neighborhood!"
– Juli D., Lorton
---
L
"Even after only one year, our neighbors started asking why our lawn looked so much better than theirs. And now they are customers too!"
– Laura S., Alexandria
---
M
"Fantastic service and the communication is by far the best I've experienced."
– Michael B., Manassas
---
L
"Independence has been nothing short of amazing; their professionalism and care has resulted in my property being the talk of the neighborhood!"
– Liz F., Alexandria
---
E
"Always on time and beautiful work!"
– Elaine G., Herndon
---
S
"We have used Independence Landscape for 17 years and they have transformed our entire yard into a showplace. They are very responsive and always do an impeccable job no matter the service performed."
– Susan K., Alexandria
---
M
"They are incredibly friendly and conscientious. They are responsive and have made our lawn look great. Highly recommend them!"
– Matthew K., Alexandria
---
G
"We have never been happier with our lawn."
– Linda M., Alexandria
---
G
"We changed our lawn service to Independence this year and have been very pleased with their work ethics and detail. Our yard has never looked better."
– Gary F., Mount Vernon
---
G
"The transformation of my property is absolutely astonishing. Your craftsmanship, knowledge and reliability are unmatched. Throughout the years I have worked with several landscape companies; now that I have found Independence, I will never have to worry about looking for any other landscaper."
– Ms. Gallagher, Alexandria
---
A
"Ben, Vidal, and the rest of the crew who gave our yard a makeover were absolutely fantastic. They transformed our entire yard, front and back, from a mud pit with dying bushes and an overgrown tree into a lush, grassy oasis with new boxwoods and azaleas to grow into. They worked tirelessly and we were amazed by how quickly the vision came together in just four days. Communication was detailed and prompt. Ben remembered every little thing about our initial consultation conversation, and made it all happen for us. We're so excited to enjoy our yard all year round now."
– Abby C., Springfield
---
S
"These guys are great. We were skeptical at first since they were taking over for a longtime landscaping service that decided to close their doors, but they have won us over. They do outstanding quality of work and are extremely attentive to detail. David Morales (the leader for our mowing team) is fantastic and has helped us immensely. The mere mention that they missed a spot and they respond immediately. They also work with the uniqueness of our lawn and recognize spots that tend to hold water and don't use the heavy commercial mowers in that area. Cutting, trimming and edging is all done extremely professionally. The area manager, Brandon Caycedo, met with us before the first cutting and we told him our concerns particularly our gate operation and wet area and he passed that information on to the mowing team leader. Well done guys we love the work you do for us!!!! Our neighbors were impressed and have added your services too."
– Steve M., Alexandria
---
J
"I have been working with Independence Landscape for over 10 years! They definitely provide excellent quality service for a good value. The owners are very professional and personable. When you contact them via email or phone they respond promptly and personally. Over the years the Independence Landscape team has provided me with everything from lawn mowing, to aeration, reseeding, planting new shrubs and even water management! I highly recommend this family owned and run outstanding lawn and landscape service!"
– Joy N., Springfield
---
K
"Thanks for the great job Independence Landscape does. I have lived here eight years and the grass has never looked better!"
– Ken M., Fairfax
---
R
"Pablo and his crew were top-notch: punctual, skillful, tidy, and pleasant. We are so pleased with our completed project. We will be happy to recommend Independence Landscape to any prospective customers!"
– Ruth & Jim E., Fairfax
---
S
"I have tried at least five other landscaping companies and NONE have come close to Chad at Independence. He and his team are experienced, informative, reliable and honest. Chad is up front with you and really connects with you on ideas for what is best for YOUR yard. If you are looking for a professional landscaping company with whom you have an actual relationship with and not just a guy that mows the lawn and is out, then Independence is who you should call."
– Shawn K., Alexandria
---
K
"The best and smartest thing I did this year was hire you guys. … You solve all my problems!"
– Karen N., Alexandria
---
B
"Please extend our thanks to the team for their awesome work! The house now feels like a home, and brings lots of compliments from the neighbors. Bring folks by for a recommendation!"
– Betty, Anita & Ted
---
B
"Thanks guys! The grass is looking like it never has in the past and it looks good!"
– Bob & Judy H., Alexandria
---
W
"My brother's wife just said, 'your grass looks like carpet—so green and intact, not blotchy like the neighbors.' All I could do was smile. You said Independence could help me achieve the results I wanted. That compliment was the confirmation."
– Willetta D., Manassas
---
B
"Thank you and your hardworking crew for a fantastic job! Absolutely LOVE the landscaping."
– Bob & Norma K.
---
J
"Thank you and your staff for doing such a great job on my lawn today. The mowing, trimming and edging is top-notch! Thanks again for your professional service."
– John L., Lorton
---
B
"Thank you and your team for the good work on our lawn. Since your visit to our home several weeks ago, the health of our lawn has significantly improved. The mowing, trimming and leaf-blowing services are top notch. Our lawn has never looked better."
– Buddy W., Alexandria
---
K
"Your team was friendly and very hard working. They showed up every day early in the morning and some days worked late in the evening, always with a smile. It was very nice to see 'the boss' get out there helping his crew get the job done. I plan to use your company again."
– Kathleen H., Mount Vernon
---
A
"You enabled me to drive into my driveway with pride. I'm thrilled with your creative landscaping—and no more neighbors complaining about my property's prior appearance. THANK YOU for improving my standing in the neighborhood."
– A.C., Alexandria
---
C
"We could not have been more impressed with your professionalism, attention to detail and your immediate response to any concerns of ours. You should be proud of the business you have built. It is a joy to work with you and we are looking forward to seeing you back here soon."
– Cynthia & Charles, Alexandria
---
J
"We can't speak highly enough about the professional and courteous customer service that Independence Landscape has brought to our landscaping projects. Chad and his crew are incredibly easy to work with and offer great solutions for our needs. We will continue to use them for future projects and recommend them to all who are looking for personalized landscaping services."
– Jay N., Kingstowne
---
C
"Excellent customer service, I couldn't be happier! Their response time was quick and they answered all my questions. I was very impressed with the way the lady at the front desk dealt with my call, I was able to flawlessly remedy the issue at hand. I would like to highlight the high level of professionalism and discipline that was displayed during my lawn care. I have been commended by numerous people on how green and rich my lawn looks. So far I can proudly say I have the best looking lawn on the block."
– Celon L., Woodbridge
---
J
"My wife and I worked with Mark Haller and his team at Independence Landscape on a backyard patio/deck reconfiguration project this summer. The experience of doing so was fantastic; start to finish. Mark is a creative thinker that patiently addressed our vision for the project and provided level-headed guidance that landed us with a finished product we could not be happier about. His build team was excellent as well. The quality of their work is outstanding and evident to discerning eyes. Mark was clear with cost variables and willing to provide options that helped us steer this project with an appropriate balance between cost and outcome. In short, Independence is a great company to work with and Mark is the kind of project coordinator every prospective customer would enjoy working with."
– Jeff H., Vienna
---
A
"Ben Rupert was knowledgeable, creative and thoughtful, finding solutions to fit our new lifestyle. I had about a million questions, and he answered each and every one quickly and thoroughly. He was almost as excited for our project as we were! On installation day, Ben showed up right on time with Jorge (project foreman) and his crew. Let me tell you, they were FABULOUS! Professional, efficient, meticulous—Jorge and his guys completed the entire job in just over six hours. They took absolute pride in their work, and simply transformed the exterior or our house. I'm beyond thrilled with the results—my neighbor caught me doing the happy dance in the middle of my front yard before the crew was even finished. We've already got our sights on the next project, and Ben will be the first person we call as soon as we're ready! Thank you, Ben and Jorge!"
– Asha B., Alexandria
---
T
"Ben came up with a plan, and his team implemented it beautifully. There were other areas in the yard that also needed attention, and with Ben's help, each were improved more than I could have ever imagined. … I could not be more pleased with the crew's professionalism and craftsmanship. I highly recommend Ben and the Independence Landscape team."
– Theresa W., Springfield
---
J
"The quality of your work was first rate and met our every expectation. The entire project was handled with the highest degree of professionalism, from your initial site visit to the cleanup. It was a pleasure dealing with you and all of the members of your highly competent and courteous work crews. We look forward to dealing with Independence again in the future."
– Judy & Paul C., Springfield
---
A
"To drive up tonight from work and see the house look so absolutely great was a real joy. Thank you so very much."
– Andi B., Alexandria
---
D
"We're happy we chose Independence for all of our landscape, gardening and lawn care needs. You've done an excellent job fulfilling our goals within both our timeframe and budget. Our yard was in need of help and things are shaping up nicely. We look forward to our continued work with you well into the future."
– Dave & Lori M., Alexandria
---
W
"They are great guys; they work hard. They deliver on their promises. … In addition to reliable mowing/edging and seasonal lawn maintenance, Independence installed a walkway in front of our house. In their commitment to excellence and integrity, they are professional, knowledgeable, courteous and skilled."
– Pastor Wayne J., Springfield
---
L
"The Independence crew recently finished a hardscape job at our home in Mason Neck involving building brick and timber stairs, replacing rotted railroad ties, and installing over 200 feet of 6 x 6 landscape timbers as driveway and planter borders.
The pricing: We got four bids, including two from the area's biggest contractors. The Independence bid was tied with one of the big guys for least expensive, but they didn't charge for the plan—and it was much better.
What a transformation! I can now reach my backyard by a set of classy steps with brick inlay, rather than via wobbly pavers around a tree. The border job was challenging, varied, and often over uneven ground, and the results are spectacular. Lining the gravel driveway for over 30 yards makes the entrance to the house classy. Returning two gravel beds to lawn cleaned up the look considerably.
The crew didn't miss a day, cleaned up as they went along, and consulted whenever they weren't crystal clear as to our desires. The sod the crew expertly installed sod cut from the farms that morning. Can't ask for fresher than that.
Chad stopped by after work every day to check on progress and make sure we were satisfied. Well done."
– Lorna & Jim M., Mason Neck
---
Lawn & Landscape Service Locations in Northern Virginia