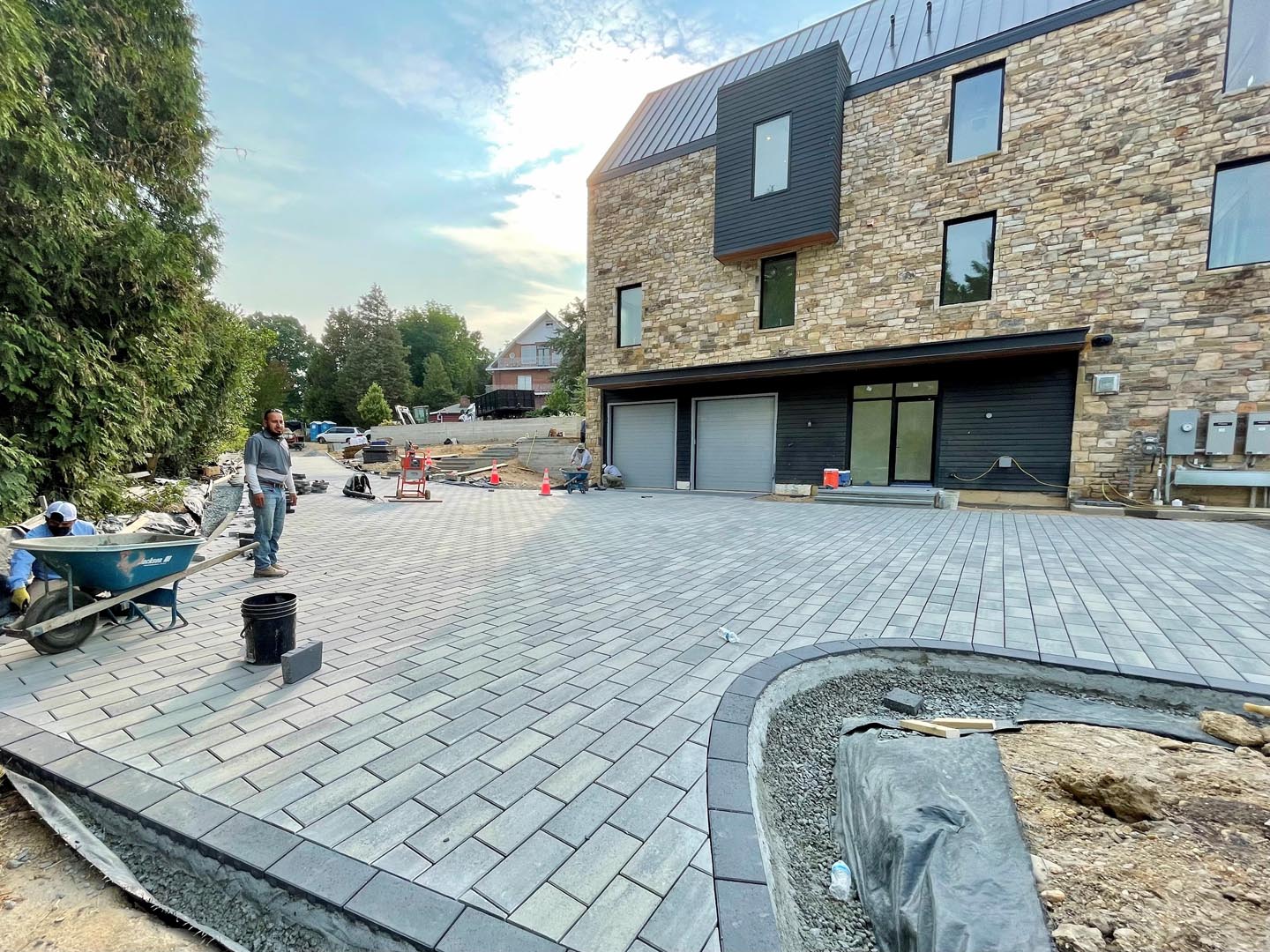 CUSTOM DRIVEWAYS
Independence Landscape is a full-service lawn and landscape company serving Northern Virginia residents. Among the many projects available to our maintenance clients are top-quality driveway designs and driveway extensions, installed by our master craftsmen. Replacing an unsightly, cracked driveway with a new one can dramatically improve your home's curb appeal and functionality. Contact us today to arrange an estimate.
Jump to: Our Process | FAQ
OUR Process
Our expert masonry crews install custom driveways that are sure to make an impression. Here is what you can expect:
1
Consultation
Your Account Manager visits your property to learn more about your desires and assess your driveway area for size, slope and any other factors that may affect the project. You can review options together for materials.
2
Estimate & Design
Soon after, you receive a detailed estimate for your driveway project. Depending on the size and complexity, we might recommend producing a formal design.
3
Scheduling
Once we get the green light, we order your materials and schedule a skilled masonry crew to tackle your driveway project. As the targeted date approaches, your Account Manager will keep you informed of any needed adjustments so you know when to expect us.
4
Demo
In most cases, we handle the demolition of your old driveway and haul off the debris. We recycle all concrete, rocks, soil and yard waste on site at our facility.
5
Installation
Your expert masonry crew installs your driveway using industry-leading equipment and materials. To ensure the project goes as planned, your Account Manager will stop by frequently. Our crews are efficient, courteous and clean up the job site at the end of each day.
6
Enjoy
Now your home has an attractive new driveway to welcome visitors. Get ready for the compliments.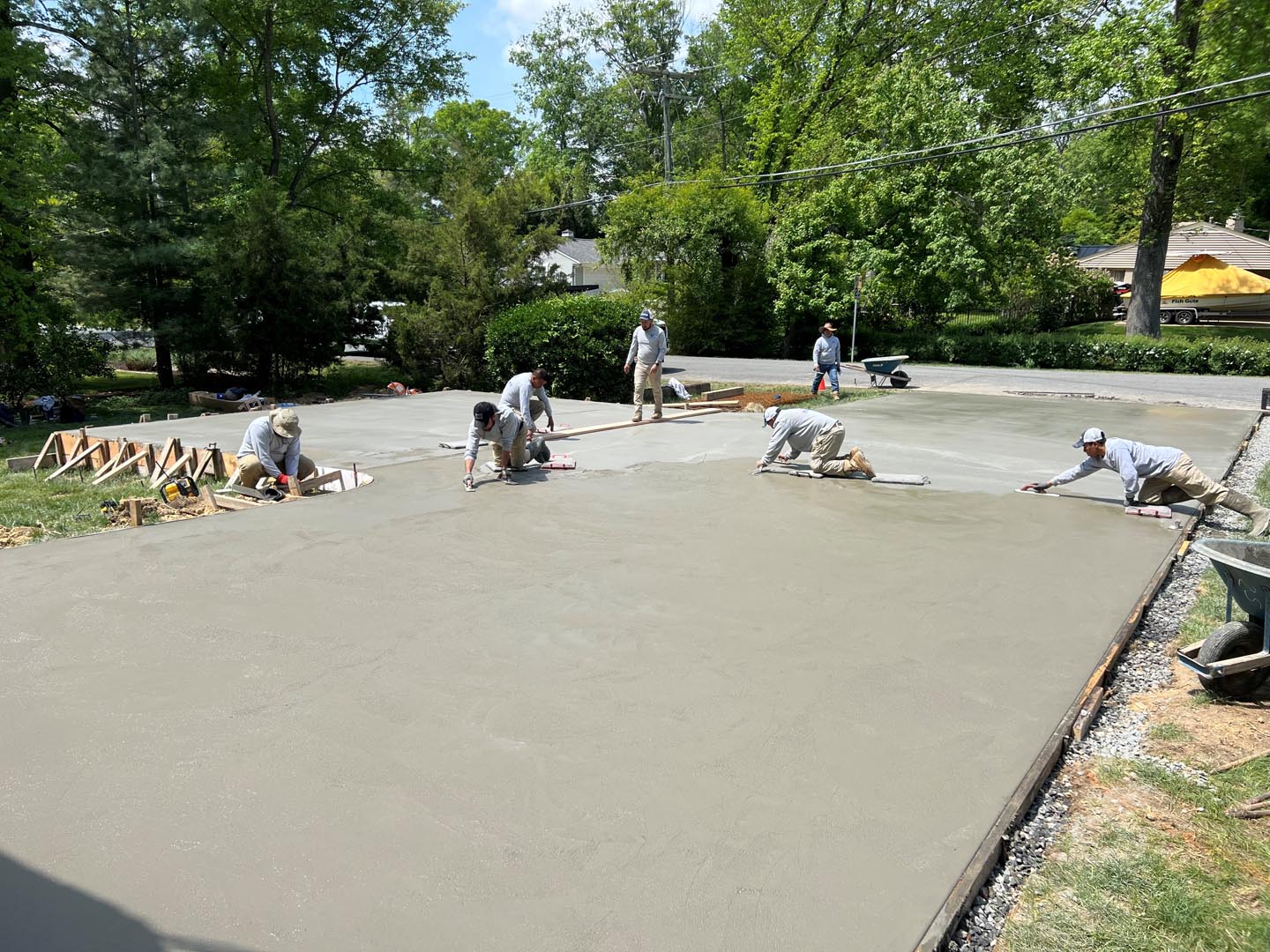 Our Commitment
At Independence Landscape, we show up on time and follow through on our commitments. You can expect your Account Manager to communicate clearly and responsively, and to be available when needed for advice. Our crews are dependable, friendly and attentive to detail. We are here for the long haul, and pledge to get the job done right.
Testimonials
---
A
You enabled me to drive into my driveway with pride. I'm thrilled with your creative landscaping—and no more neighbors complaining about my property's prior appearance. THANK YOU for improving my standing in the neighborhood
– A.C, Alexandria
---
Frequently Asked Questions
This depends on the look you're going for. Brushed concrete is dependable, easy to clean and looks great. Our masonry crews also install top-of-the-line, custom paver driveways that are highly durable and maintain their color over time. We use pavers that come in a wide variety of shapes, textures, colors and styles. Your Account Manager can help you find the best option for your style, budget and functional needs. Check out our gallery for inspiration.
Yes, it is crucial that driveway pavers are thick enough to support the weight of vehicles. The pavers we normally use for driveways are 80mm (more than 3 inches), which is high quality and rated for vehicular traffic..
Many of our driveway projects incorporate other functional elements like walkways, drainage corrections or landscaping. If you need help casting a vision for your outdoor space, your Account Manager is happy to assist. When jobs get more complex, our Senior Landscape Designer can create a cohesive design that meets your needs and is built to last. 
We do not offer one-time projects because our existing clients are our top priority, and our business depends on these long-term relationships. We are happy to meet with you to discuss your driveway project as long as you are willing to consider us for ongoing lawn maintenance, such as weekly mowing or our Lawn Care Program.
At Independence, communication is not just a buzzword—over and over, clients tell us our responsiveness sets us apart. Your dedicated Account Manager serves as your point of contact from the initial meeting to completion, and is always happy to assist. Feel free to reach out anytime.
Our masons are some of our longest-tenured employees, and are among the most skilled craftsmen in the industry. Their experience and attention to detail shows up in the finished product. Your Account Manager communicates daily with the masonry crew and visits the project site frequently to keep things on track.
If a complete replacement isn't necessary, an alternative is to build driveway extensions to either side of your existing driveway to provide extra space to walk or park. These can be installed using brushed concrete or custom, high-end pavers.
If your driveway is made from pavers, you may notice a powdery, white deposit build on the surface soon after installation. This is called efflorescence—it is completely natural, and will disappear within a few months. Efflorescence is a buildup of water soluble calcium oxide that rises to the surface of all concrete products and is visible only when dry. It does not affect the durability or performance of your pavers.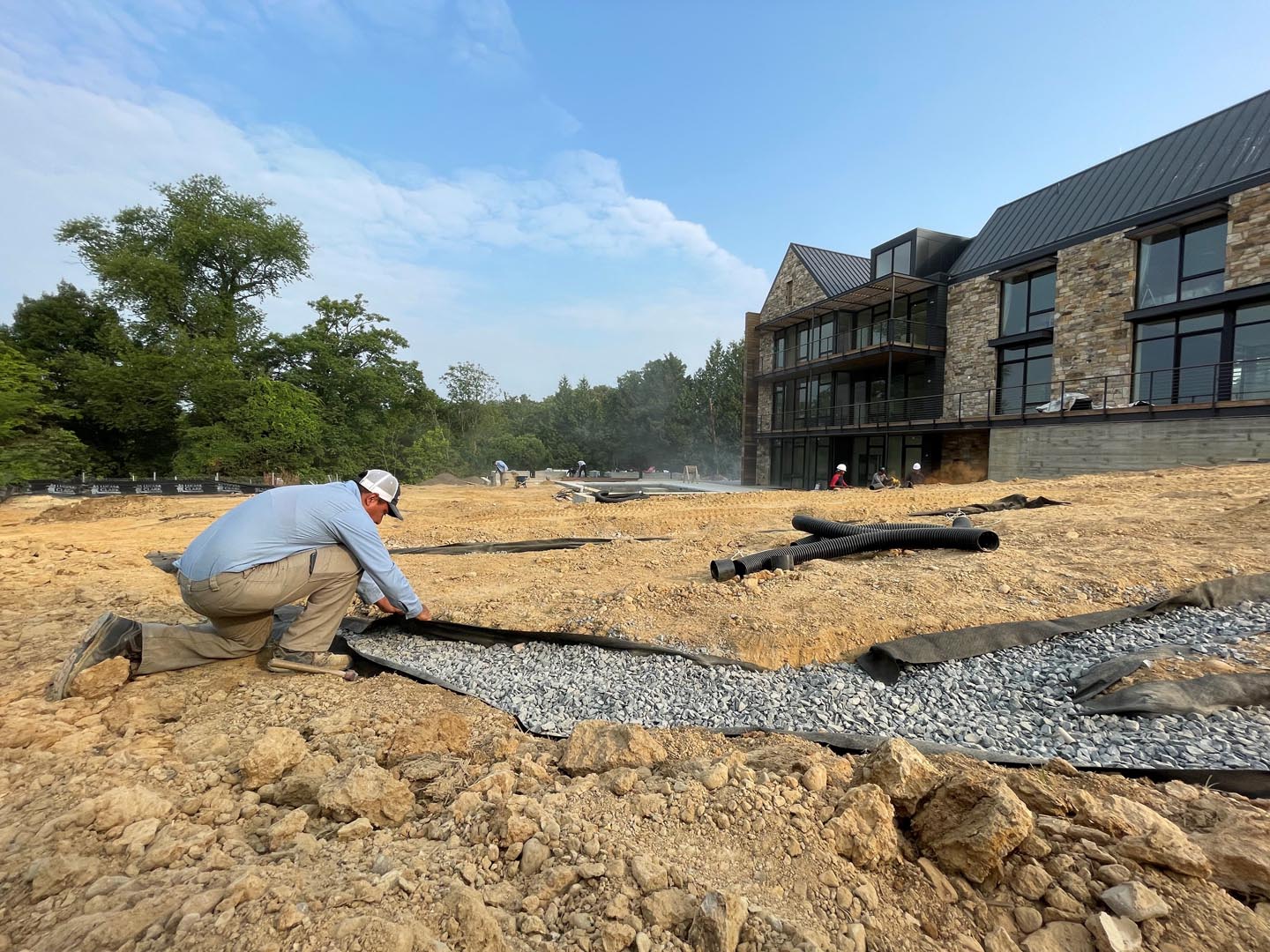 Trust The Experts
You can dramatically improve the curb appeal of your home by replacing an unsightly, cracked driveway with a new one. Our expert masonry crews are equipped with top-of-the-line tools and materials to build you a driveway that makes a statement and is built to last. We can enhance new driveways with custom walkways, tasteful landscaping, drainage solutions and more. Reach out today to request an estimate.
Lawn & Landscape Service Locations in Northern Virginia