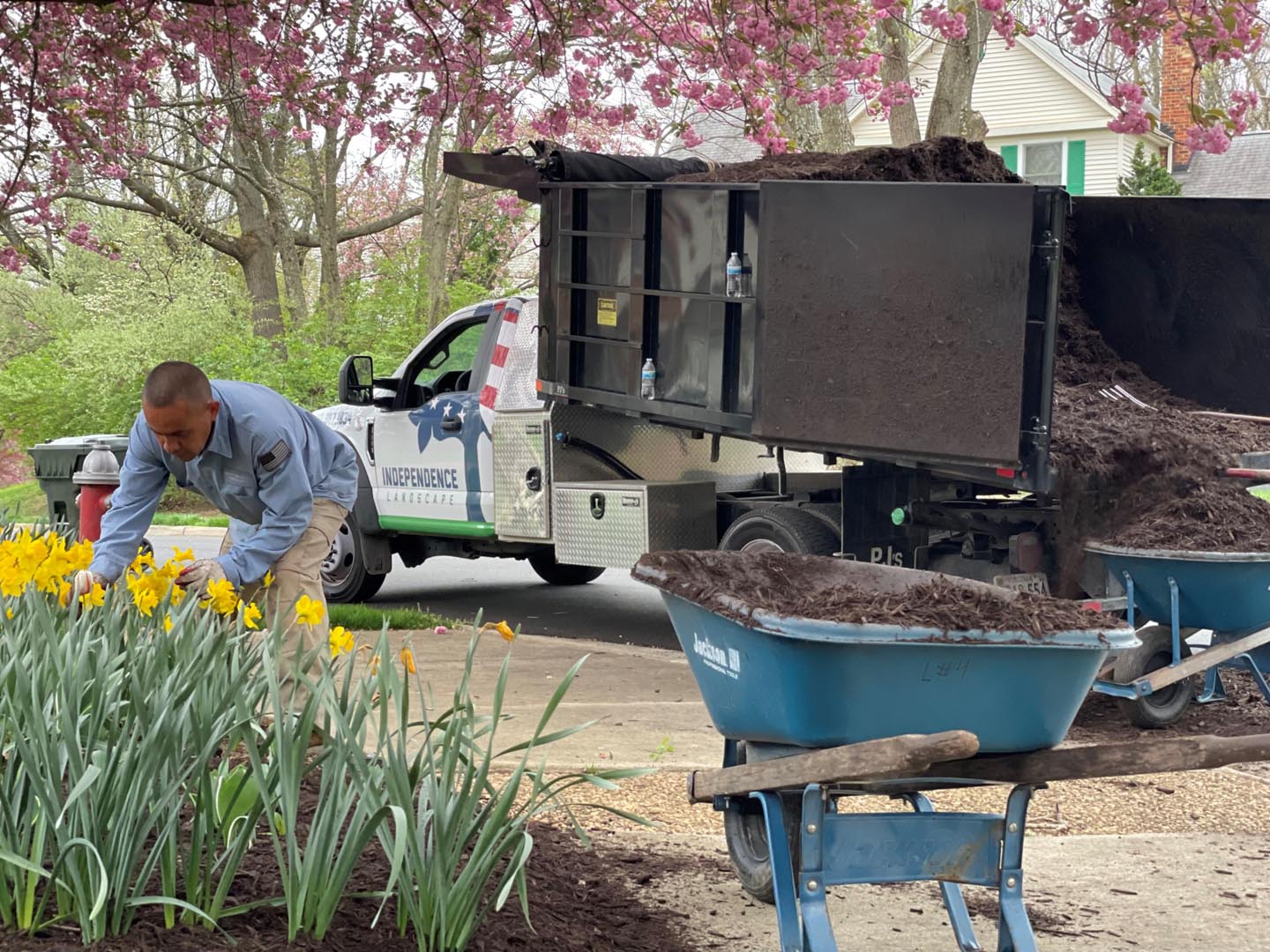 INITIAL LANDSCAPE BED CLEANUP & MULCHING
Independence Landscape is a full-service lawn and landscape company serving residential clients in Northern Virginia. Few things instantly spruce up your home like our landscape bed cleanup, pruning, edging and mulching service, which is especially popular in the Spring. Let our experienced team give your landscape a crisp, clean look.
Jump to: Our Process | FAQ
OUR Process
Many of our clients love to get an initial landscape bed cleanup and mulching every Spring, or before hosting an event. Here's how the process works for you:
1
Schedule
Ask your Account Manager for an estimate for our initial landscape bed cleanup, pruning, edging and mulching service. At this time, feel free to mention any special requests for your property. Once you sign off, we'll get you on the schedule.
2
Cleanup
Our skilled landscape crew arrives at your home and begins the project. They remove all weeds, leaves and debris from your landscape beds.
3
Pruning
Our crew prunes the shrubs and ornamental trees in your landscape beds.
4
Clean Edges
Our crew gives all your mulched beds a crisp, defined border by hand-edging 3″-4″ deep. We use a sharp blade to ensure these edges are perfectly cut.
5
Mulching
Finally, our crew installs a fresh layer of premium, dyed brown mulch.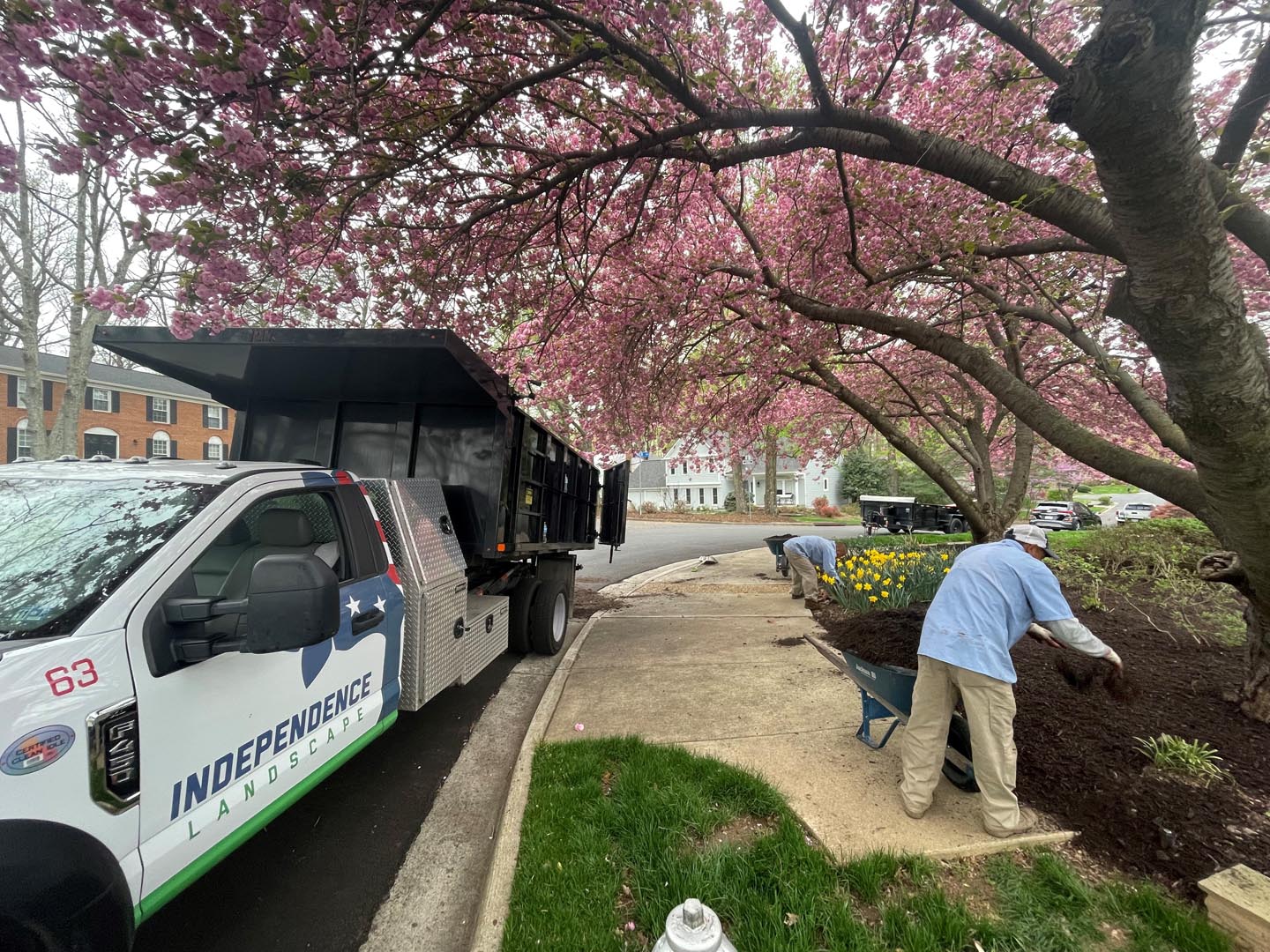 Our Commitment
At Independence Landscape, we show up on time and follow through on our commitments. You can expect your Account Manager to communicate clearly and responsively, and to be available when needed for advice. Our crews are dependable, friendly and attentive to detail. We are here for the long haul, and pledge to get the job done right.
Testimonials
---
J
Every spring you guys prep, clean and mulch the exteriors of my home and business. This really makes our home stand out, giving us a fresh, clean look. It tells neighbors that we care. Keep up the great work guys
– Jay T., Lorton
---
Frequently Asked Questions
This service is an initial cleanup and mulching service—a single project to clean up and refresh your landscape beds. It normally includes some weeding and pruning in addition to the edging and mulching. Our Weeding and Pruning Plans are recurring services to maintain your landscape beds on a regular schedule.
Depending on the scope of the work, it could take our crew anywhere from a few hours to several days. Your Account Manager can give you an idea of what to expect.
We always do our best to accommodate special requests. Please speak with your Account Manager about this when you request the estimate.
Our existing clients are our top priority, as our business is built upon those long-term relationships. For this reason, we are not set up to take on one-time projects. We are happy to meet with you to discuss your desired project as long as you are willing to consider a recurring maintenance service with us, such as weekly mowing or our Lawn Care Program. 
Yes, we go the extra mile to be environmentally friendly. We recycle yard waste, soil, concrete and rocks on site at our facility. In fact, the yard waste is composted to produce our own fertile, nutrient-rich topsoil.
No, a sprinkler system is not needed and the majority of our clients do not have irrigation systems. However, prior to Aeration & Overseeding we do need to know if you have an irrigation system so we can mark your sprinkler heads before using the aerator machine. We do recommend watering for 10 minutes daily for the first week. Aim to keep your new seed damp, but avoid soaking or pooling.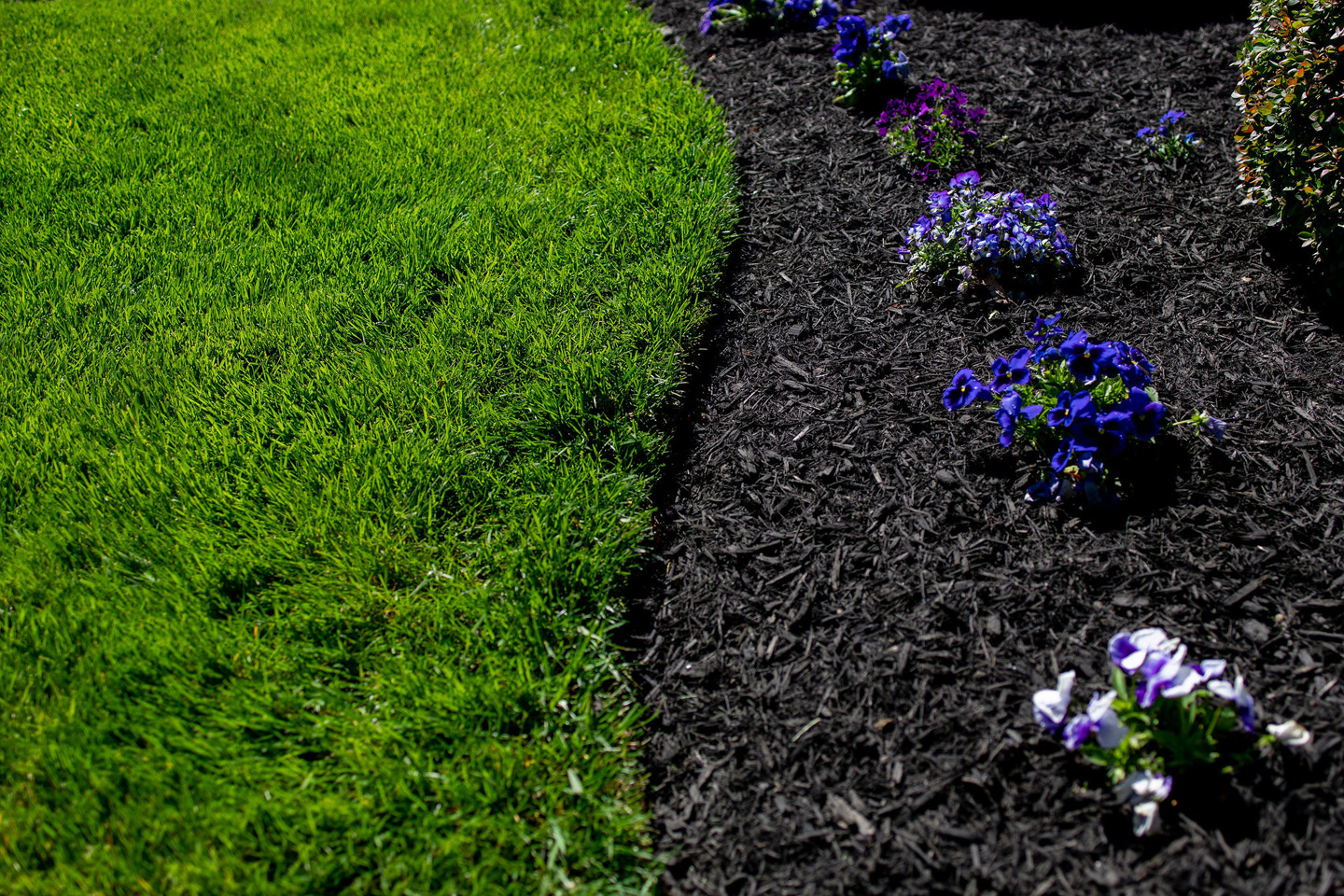 Trust The Experts
To give your yard a professional, finished look, our diligent landscape crews are available for an initial landscape bed cleanup and mulching. We remove and haul away weeds and debris, prune your shrubs, cut clean edges around the perimeter of your beds and apply a fresh layer of premium mulch. Ask your Account Manager to schedule a cleanup and mulching at your home.
Lawn & Landscape Service Locations in Northern Virginia