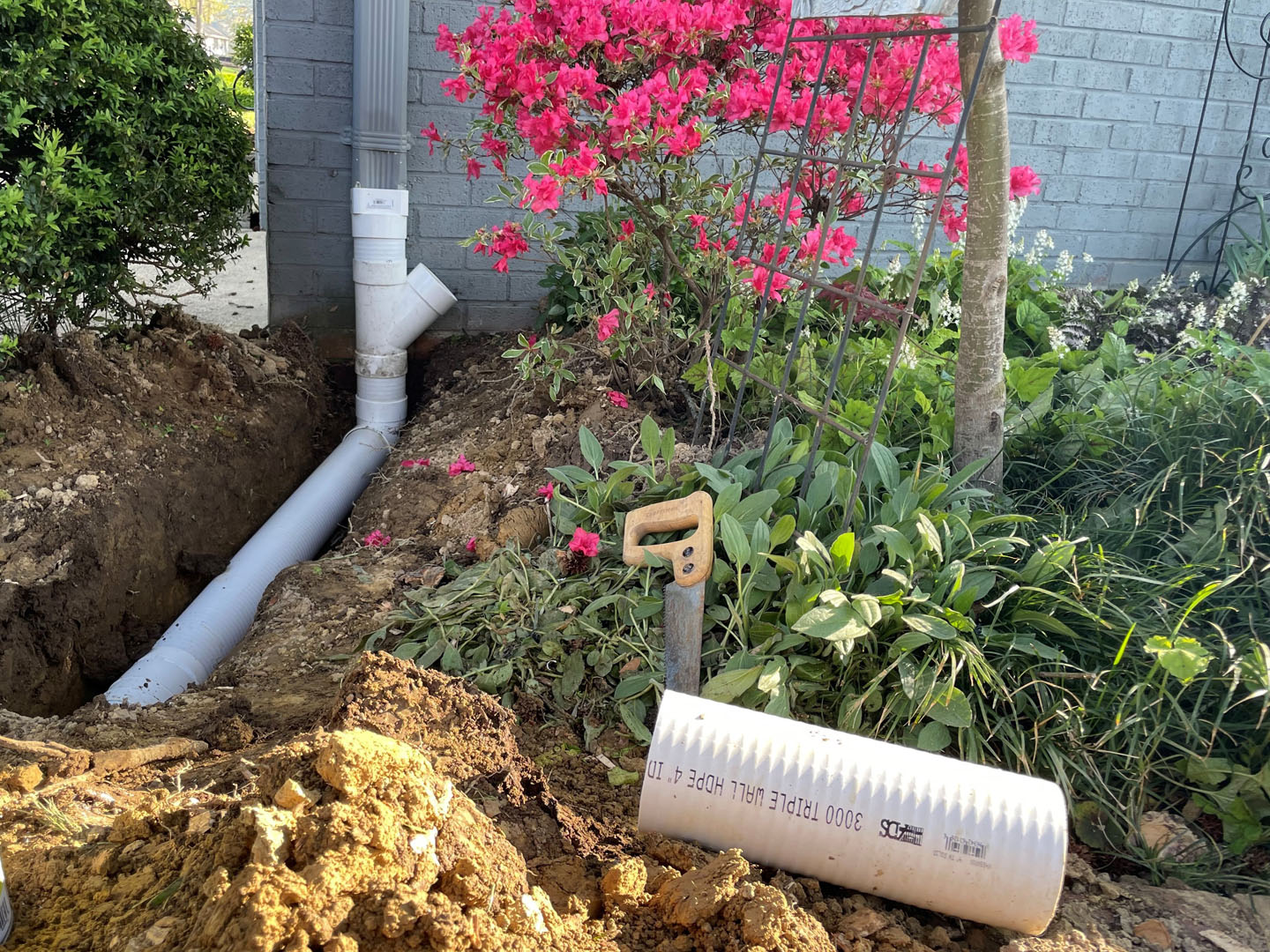 DOWNSPOUT EXTENSIONS
Independence Landscape is a full-service, residential lawn and landscape company serving Northern Virginia. Our clients get access to our team of experts for customized landscape, hardscape and drainage correction projects, including downspout extensions. Extending your downspouts underground to a proper exit point is a solution many homeowners overlook. Contact us today to schedule a consultation.
Jump to: Our Process | FAQ
OUR Process
A downspout extension is one of the simplest and most effective solutions to drainage issues. Here is how the process works for you:
1
Consultation
Your dedicated Account Manager visits your property to assess your drainage issues, listen to your priorities and develop a customized long-term solution. Soon after, you receive a proposal for your downspout extensions and any other drainage work you desire.
2
Scheduling
Once you sign off, we order materials and select a skilled drainage and landscape crew to tackle your project. As the date approaches, your Account Manager stays in contact in case any adjustments are needed.
3
Preparation
Your experienced crew arrives, preps the area and marks the path of your downspout extensions. Your Account Manager will stop by to ensure the project goes just as you planned.
4
Installation
Next they dig the trenches and place the pipe, connecting your downspouts to the proper exit point. Finally, they bury the pipe and carefully cover the surface with sod, seed or mulch.
5
Follow-Up
If you ever have questions or concerns related to your drainage or downspout extensions, your Account Manager is always available and happy to assist.
Our Commitment
At Independence Landscape, we show up on time and follow through on our commitments. You can expect your Account Manager to communicate clearly and responsively, and to be available when needed for advice. Our crews are dependable, friendly and attentive to detail. We are here for the long haul, and pledge to get the job done right.
Testimonials
---
B
From start to finish, [my downspout extension] project took three full days for a crew of three. Andrew Meiser is the sales rep who worked with me to create a plan for the job. His proposal was meticulously constructed, and the price for the work was fair. Andrew was on site every day, and answered all of my questions. He went the extra mile for me, adding an extension to a gutter not originally included in the scope of the work, and grading a dip in the lawn where a tree had been removed years ago. When the crew lost the line of a flower bed, he responded to my concerns by revisiting the site and redrawing the line. Sod and mulch were applied at the finish; it is really almost impossible to tell that the work was performed, except for the fact that my once unsightly above ground drainage system has now been removed. Andrew is personable, friendly, responsive, trustworthy and helpful. The crew of Jorge, Eswin and Florencio are also extremely hardworking and personable. I couldn't be happier with my experience with Andrew, his crew and this company.
– Barbara F., Alexandria
---
Frequently Asked Questions
Downspout extensions connect the downspout from your home's gutters to a buried pipe that drains water away from your home toward a proper exit point. Most often, they are connected to a pop-up emitter. In heavy rains, downspout extensions carry excessive water away from your home's foundation, doors and trim, and prevent erosion and runoff in your landscape beds and lawn. Downspout extensions are different from French drains, but the two are sometimes integrated together depending on the property's needs.
Yes, most of our drainage projects involve multiple components. Downspout extensions are often connected to a pop-up emitter and are sometimes integrated with French drains, channel drains, drain boxes and/or a dry creek bed. Your drainage correction might also involve grading, landscaping, sodding and/or mulching.
Every drainage problem is different and requires a solution tailored to your property. Our team of experts can create a customized solution that works long-term. This may or may not include downspout extensions. Contact us today to arrange a consultation with your Account Manager.
If you speak to five different contractors, you may get five different opinions that vary by each company's specialty. At Independence, our focus is to mitigate water before it gets to your house. Whenever possible, we prefer to use gravity rather than mechanical options like a sump pump because it's more dependable long term. Whether it's a complex drainage correction or lawn maintenance, our clients know they can depend on us to get the job done right.
Our existing clients are our top priority and our business is built on these long-term relationships. Because of this, we do not offer one-time projects. If you are willing to consider us for a maintenance service, such as weekly mowing or our Lawn Care Program, we are happy to meet with you to evaluate your drainage issues and find a customized solution.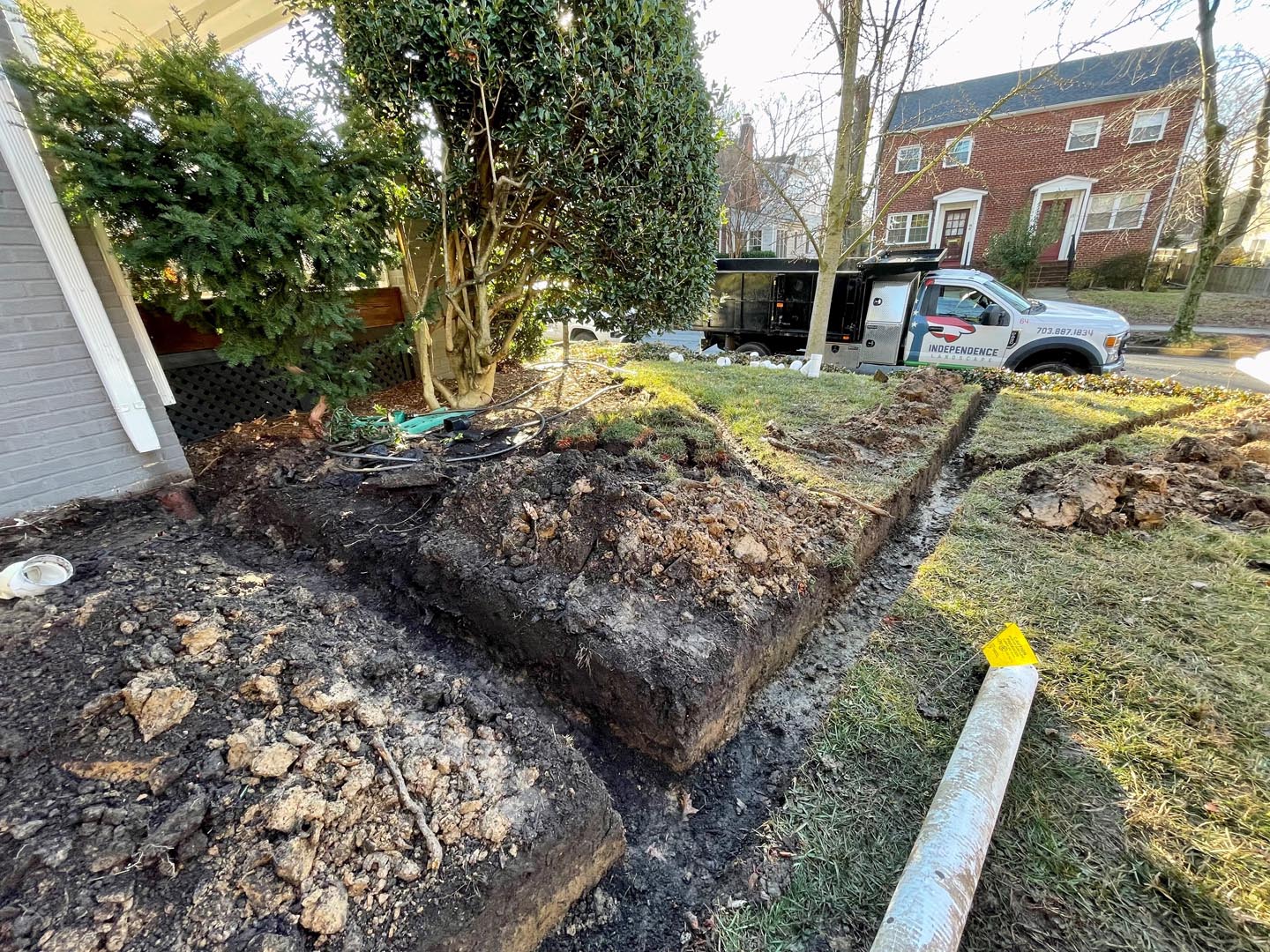 Trust The Experts
Drainage problems can't be solved with shortcuts. At Independence Landscape, we understand that every yard is unique. Our clients get access to our team of experts to create a customized, long-term drainage solution for your yard, often including downspout extensions. Call today to arrange a consultation with your dedicated Account Manager.
Lawn & Landscape Service Locations in Northern Virginia