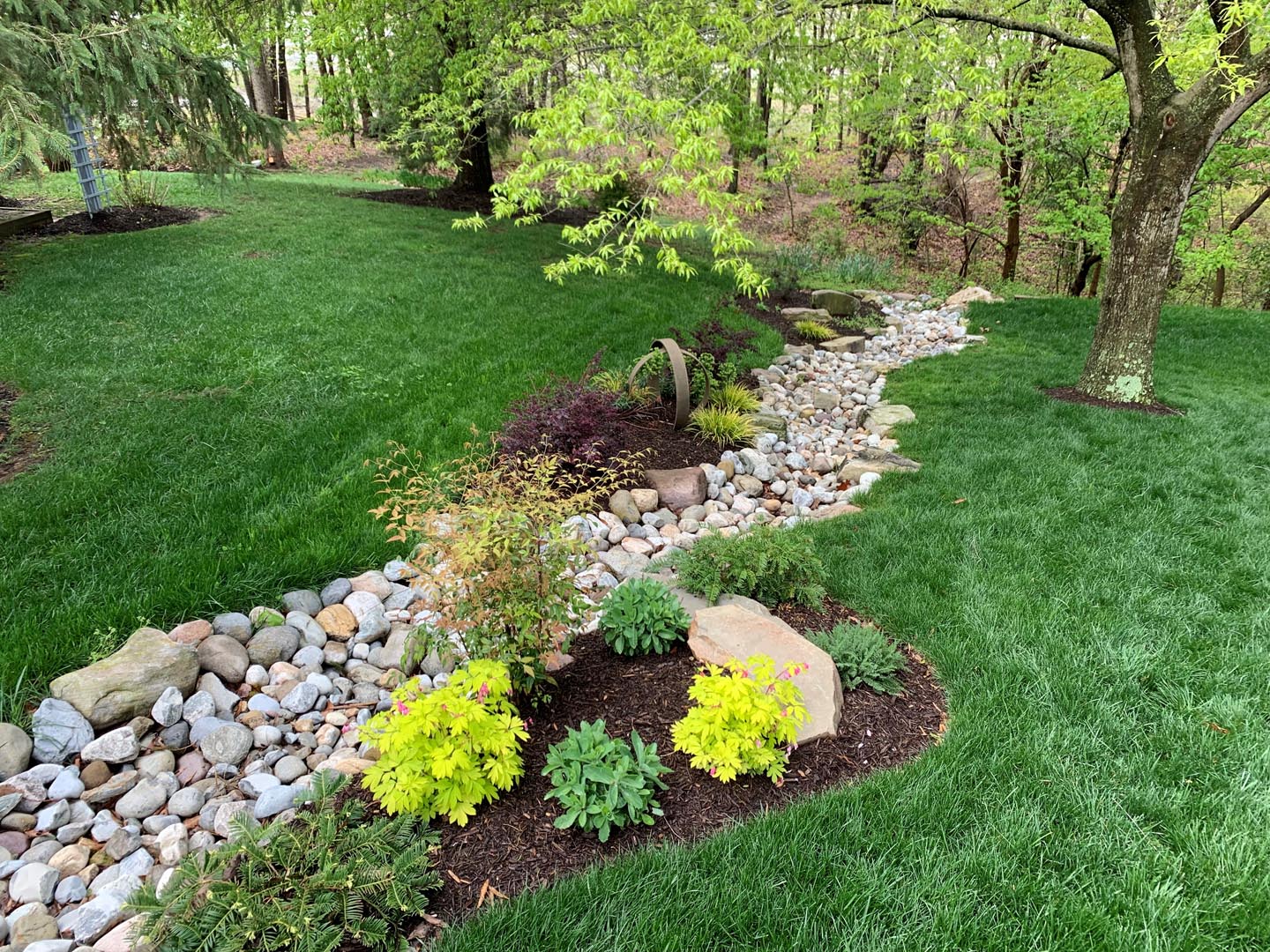 DRY CREEK BEDS
Independence Landscape is a full-service lawn and landscape company serving Northern Virginia. Our clients get access to our team of experts for customized landscape, hardscape and drainage correction projects, including dry creek beds. A properly installed dry creek bed offers the best of both worlds: a long-term solution that enhances your yard's appearance. Ask your Account Manager if a dry creek bed could resolve your drainage issues.
Jump to: Our Process | FAQ
OUR Process
A dry creek bed helps channel water to flow through or around an area, but it's not the answer for every yard. Here is how our process works:
1
Consultation
Your dedicated Account Manager visits your property to assess your drainage issues, listen to your desires and develop a customized long-term solution.
2
Estimate & Design
Soon after, you will receive a proposal for a custom drainage correction, which may include a dry creek bed. Drainage projects often involve grading, sodding and/or landscaping, and if desired can include hardscape elements as well. For more intricate projects, we recommend a formal design by our Senior Landscape Designer.
3
Scheduling
Once you give the green light, we order materials and select a skilled drainage and landscape crew to tackle your project. As the date approaches, your Account Manager will keep in touch in case any adjustments are needed.
4
Preparation
First we prep the area by removing unnecessary debris, then regrade the area as needed to allow proper water flow.
5
Installation
Next we install drainage fabric to prevent weeds and install any connected drainage components that your job involves, such as drainage pipe or drain boxes. We cover that with decorative river rock to complete your dry creek bed. Boulders and plants can be added for a more natural look.
6
Follow-Up
If you ever have questions or concerns related to your drainage or dry creek bed, your Account Manager is always available and happy to assist.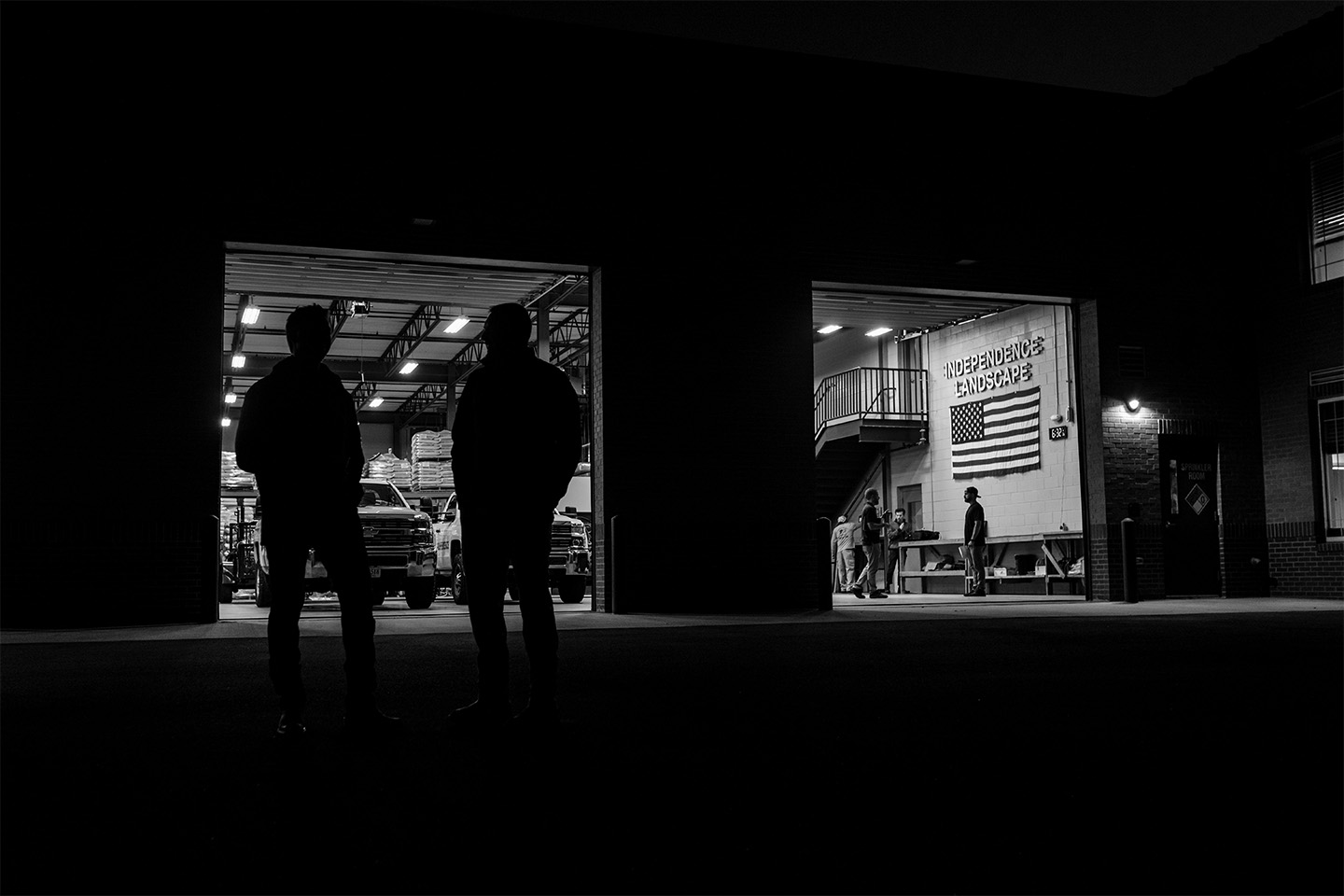 Our Commitment
At Independence Landscape, we show up on time and follow through on our commitments. You can expect your Account Manager to communicate clearly and responsively, and to be available when needed for advice. Our crews are dependable, friendly and attentive to detail. We are here for the long haul, and pledge to get the job done right.
Testimonials
---
T
We can't wait for a heavy rain and not see our yard washing away! Besides functional, the river bed looks great as do the stepping stones!
– Tom & Rhonda W.,
---
Frequently Asked Questions
Dry creek beds channelize water to flow through or around an area. This diverts water from areas with drainage issues and greatly reduces erosion and runoff. While each installation varies based on the client's needs, every dry creek bed includes drainage fabric to prevent weeds and decorative river rock and/or boulders. This allows the water to flow properly and looks great, too.
Yes—many of our drainage projects involve multiple components, and it depends on your property's needs. Your dry creek bed may be integrated with downspout extensions, French drains, channel drains, drain boxes or pop-up emitters. Some grading is usually necessary as well, and many clients choose to add landscaping and/or mulching near the dry creek bed to enhance the look and reduce erosion.
Every drainage problem is different and requires a solution tailored to your property. Knowing the source of the water is the first critical step in solving this issue. Our team of experts can create a customized solution that works long-term. Contact us today to arrange a consultation with your Account Manager.
If you speak to five different contractors, you are likely to get five different opinions that vary by each company's specialty. At Independence, our focus is to mitigate water before it gets to your house. Whenever possible, we prefer to use gravity rather than mechanical options like a sump pump because it's more dependable long term. Whether it's a complex drainage correction or lawn maintenance, our clients know they can depend on us to get the job done right.
We do not offer one-time projects because our existing clients are our top priority—our business is built on these long-term relationships. If you are willing to consider us for a maintenance service, such as weekly mowing or our Lawn Care Program, we are happy to meet with you to evaluate your drainage issues and find a customized solution.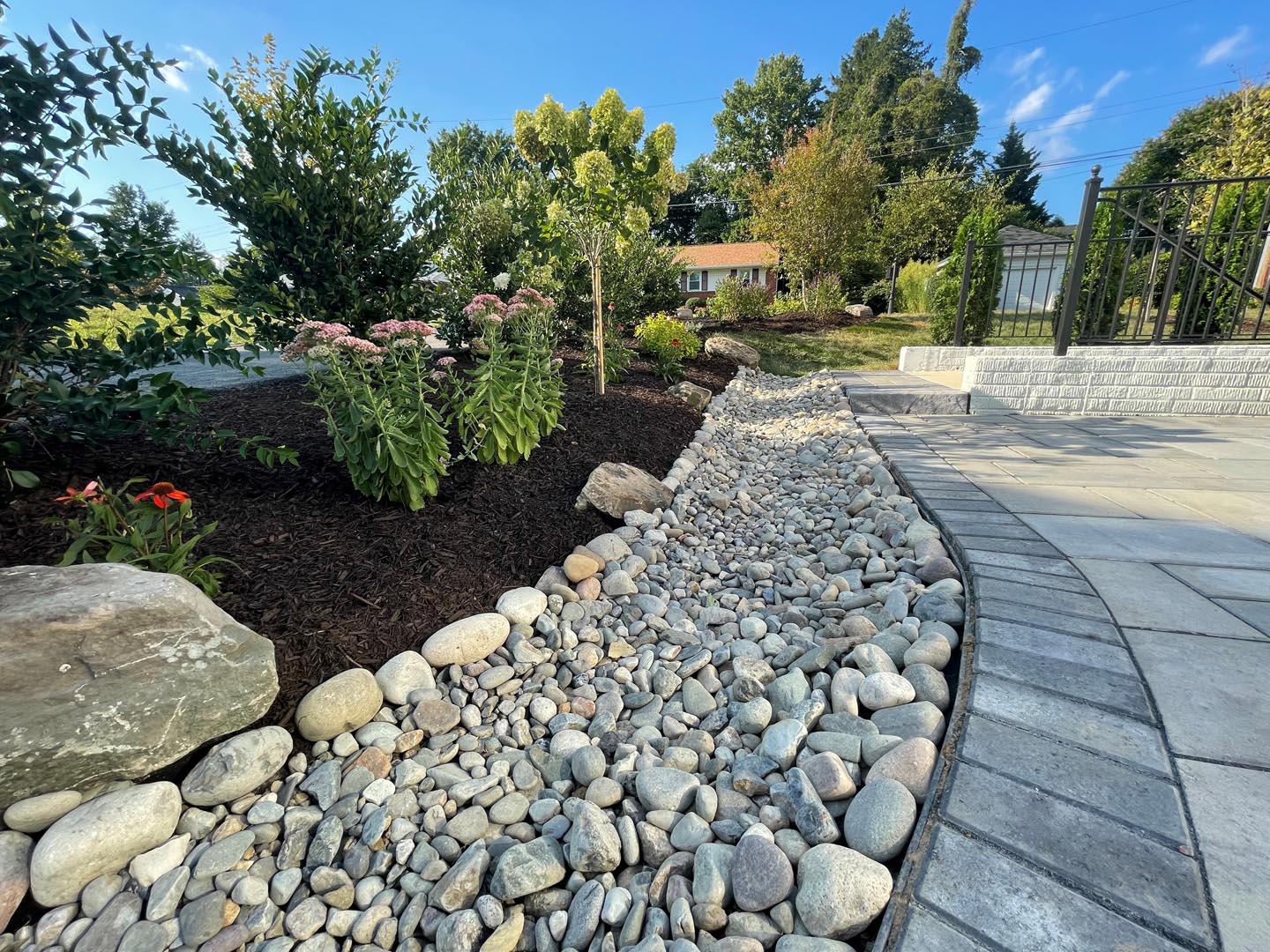 Trust The Experts
When it comes to drainage issues, every yard is unique. At Independence Landscape, we design and install dry creek beds along with grading, sodding and/or landscaping for a functional, attractive, long-term solution. Call today to arrange a consultation with your Account Manager to find out if a dry creek bed makes sense for your yard.
Lawn & Landscape Service Locations in Northern Virginia